Cave Hotels and Hot Air Balloons – Cappadocia's Biggest Attractions
The Anatolian region of Cappadocia in central Turkey boasts of many quirky aspects including fairy chimneys, underground cities, and ancient churches but by far, two of its biggest attractions luring thousands of travellers every year are its cave hotels and early morning sunrise hot air balloon trips. Offering a unique Flintstone experience that is hard to find in other countries of the world, cave hotels take pride of place on pages of travel brochures and postcard scenes of 20 or more balloons rising into the air are a hot feature for international newspapers across the world.
Quirky Cave Hotels in Cappadocia
The cave hotels probably attract more attention than usual because they are original caves and not some man-made holiday gimmick. Throughout history, people in the region used the caves as homes and even churches when the Cappadocian Fathers brought Christianity to the region. Naturally, when Cappadocia embraced tourism, cave hotels sprung up and whilst adhering to local laws to preserve as much of the structure as possible, they now offer just the same facilities and amenities as purpose built hotels. Indeed, most cave hotels include basic and luxury hotel facilities such as Wi-Fi, Jacuzzi baths, fireplaces for winter and air conditioning for summer, satellite TV, four-poster beds, rain showers, and built in wardrobes. In Goreme, the main touristic hub of Cappadocia, most cave hotels cater for budget backpackers while a short distance up the road, the small village of Uchisar is renowned for its more expensive and luxury cave hotels that often boast of a magnificent view of the majestic Mount Erciyes in the distance. Other places where cave hotels exist include Urgup and the more traditional Turkish village of Ortahisar.
Cruising in Hot Air Balloons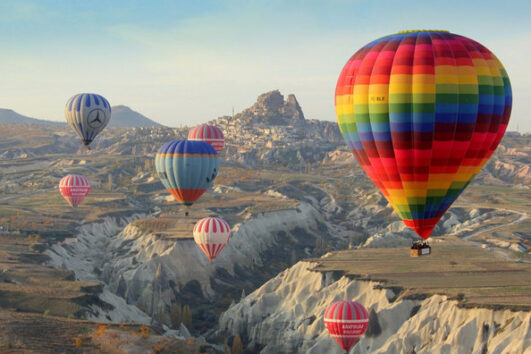 Waking up in a cave hotel is a unique experience but one that is perfectly topped with a sunrise hot air balloon tour over the fairy chimneys, that are strange rock formations crafted over thousands of years from wind erosion. All pilots are trained and certified therefore providing a safe and memorable experience for even the most nervous of flyers. Cappadocia even has its own balloon hospital for maintenance and upkeep of the balloons! Ideal wind conditions and the geographical landscape are the perfect requirements for a slow and gentle ride, taking passengers for a bird's eye view of prominent places like Goreme Open-Air Museum, a UNESCO world heritage site of cave churches that is completely different when seen from the air. The combination of a panoramic view, local landmarks, and the vibrant orange sunrise on the horizon obviously bring emotions to the surface since couples have been known to get engaged while in the air or friends have booked the trip as a birthday present to match all others. Although Cappadocia has many attractions that would take months to explore, a stay in a cave hotel and a hot air balloon trip are by far the best and biggest experiences that will become your favourite holiday memories. Note: Find out more details here.